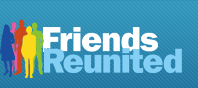 Friends Reunited, a web-site I joined a while ago and which I've rarely accessed, emails me to try and get me to log back in. They've started some sort of "Groups" thing and reckon that based upon my demographic and goodness-knows-what-else I might be interested in some of these:
– Over Forties
Thanks a bunch Friends Reunited. Accurate, but do you have to put it FIRST in the list?
– Pink Floyd
I haven't touched illegal drugs for about 20 years, so I think Pink Floyd and I would have less intense relationship than previously. But not too far wrong.
– Film and Cinema
Well yes, but hardly just me, surely.
– Doctor Who
Ah, now we're talking! But then they put a little icon next to it showing a picture of young whipper-snapper David Tennant. Look, folks, you've spotted I'm over forty so Jon Pertwee please. Or, at a pinch, Tom Baker.
– Classic Vehicle
They're pushing the age thing again here, aren't they…?
– Sydney
Well, I went there once. Loved it. But not sure why it gets singled out. Do a lot of Doctor Who fans, who used to listen to Pink Floyd, driving old cars go there to retire or something?
and so on with yet more.
Why not just send me an email saying "Hey, we've worked out you're geting a bit middle-aged, so why not come over here and meet some of your equally middle-aged and backward-looking former school friends?"
Anyway, must dash – time to put on my slippers and have a snooze in my rocking-chair.